Via Czechia is a unique system of long-distance hiking, cycling and skiing trails in the Czech Republic, running across and around the whole country. No matter whether a hiker, biker or a cross-country skier, you can give it a go! Via Czechia offers all three trail alternatives, in total of 5,280 km.
Both North Trail and South Trail span between the westernmost and easternmost points of the country, roughly copy the border-line and lead over all of the Czech highest mountain peaks. By completing both trails, you will hike or ride almost a perfect circuit of 2,200 kilometers.
Via Czechia passes through mountain sceneries, nature reserves, forests and meadows and other places of natural beauty, and also leads you to stunning cultural and historical places along the way.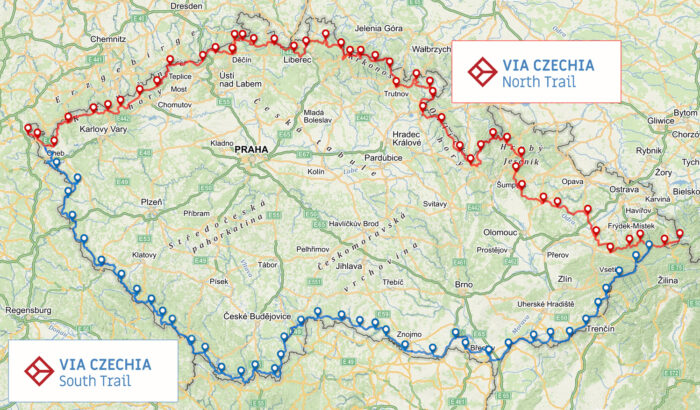 Unforgettable Journey
Via Czechia long-distance trails are inviting you to explore and enjoy the rich natural, historical and cultural heritage of the country that forms the heart of Europe.
Come and cross this small country from its westernmost to the easternmost border, explore its rich cultural heritage first shaped by the Celtic tribe of Boii, who left their mark not only in the name of the country "Bohemia"  but also in the landscape by having built their centuries-lasting oppida. Stop in small towns and sites of Christian pilgrimage nestled along the way – the silent witnesses of the glory of the ancient Kingdom of the Czech Crown, and let the footpaths lead you again through the countless mountain ranges, picturesque sceneries and deep forests.
Easy to Plan
Each trail is approximately 1,000 km long, so hiking the entire trail takes between six and seven weeks. If you choose to ride a bike it will take you from two to three weeks one way. For planning, you can use a great online tool Mapy.cz with all necessary information on every stage (such as the level of difficulty, elevation gain, shelters, natural springs, accommodation and food). Links to all stages and gpx files are to be found on North Trail and South Trail page of this website. Trails are also published on Outdooractive
You don't have to hike or ride the entire trail at once. The trails are broken down to approximately 4-day stages the start and finish of which are served by public transportation.
Each daily stage finishes in a place that caters for hikers and bikers and offers convenient accommodation. We mapped the providers along the trail and prepared a list of recommended mountain lodges, hotels, guest houses.
Easy to Navigate
The trails follow the hiking paths marked by color-coded signs of the Czech Tourist Club. The Club's world-unique trail marking system  was established over 100 years ago and has been developed and maintained by its members on a voluntary basis ever since.